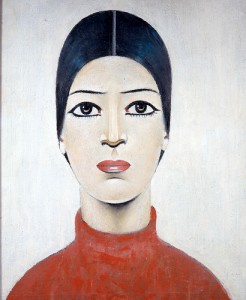 Yesterday I took Elaine Tomlinson from Foxhill to The Lowry yesterday in Salford Quays. Lowry is the most unfashionable artist I know of and it seems that it was always thus. I don't like his matchstick men paintings but I had seen some earlier work that I liked. I really enjoyed the exhibition at The Lowry. It showed some great early drawings and paintings and some great seascapes and some wonderful late work. He was such a loner, very much his own man and never seemed to flinch from that path. A fascinating, lonely character who painted and painted, even though he didn't know why he was doing it. He really was someone who endlessly pondered upon the meaningless of existence.
We had a great time - Elaine didn't know anything about his work (apart from matchstick men) before we set off and she loved it as did my partner Helen.
The portrait above is of a woman called Anne - it seems that she may not have existed but Lowry painted her throughout his life. He did the above one in the 70's when his matchstick period was raging and the art establishment were shocked. I like the work and personality of this non-hero.
A miserable bastard though!